A Tribute to H.L. Sandra Davis and S.K. Stuart Lang - 30 Years of Service
On this special day, the 16th of September 1993, H.L. Sandra and S.K. Stuart were initiated into Royal Victoria Court No 1, marking the beginning of a remarkable journey of dedication and service to the Order of the Amaranth.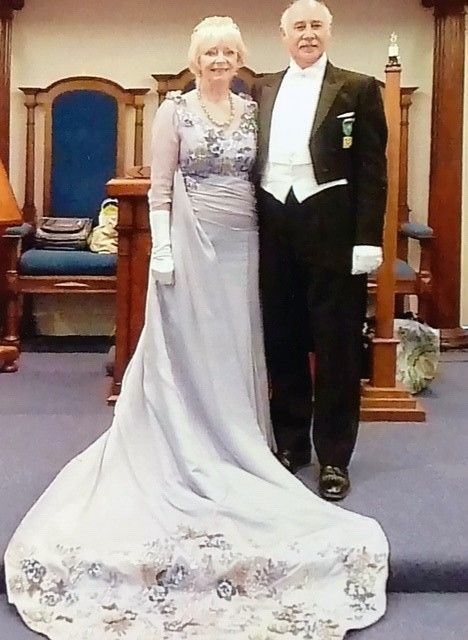 Tonight, we gather to pay tribute and express our heartfelt gratitude to both Sandra and Stuart for their incredible thirty years of unwavering commitment to our beloved Order.
Throughout these three decades, they have brought love, friendship, and tireless effort to our organization, leaving an indelible mark on all of us.
Sandra has exemplified leadership by serving as Royal Matron on four distinct occasions, in the years 1998, 2009, 2014, and 2018.
Her dedication and devotion to our Order have been truly inspirational.
Similarly, Stuart has demonstrated his dedication by taking on the role of Royal Patron an impressive eight times, in the years 1996, 1998, 2002, 2005, 2007, 2014, 2017, and now, once again, in 2023.
His commitment to our cause is a testament to his passion for the Amaranth.
Sandra and Stuart's impact extends beyond their leadership roles; they have introduced a remarkable twenty-two new members to the Order.
Notably, thirteen of these new members were recruited during their tenure in office in 1998, reflecting their remarkable ability to inspire others to join our ranks.
In 2014 and 2015, they took on the esteemed positions of Grand Royal Matron and Grand Royal Patron, representing the Order across all jurisdictions in Australia.
Their dedication to our organization has transcended boundaries, making them true ambassadors of the Amaranth.
Sandra and Stuart all the members look forward to sharing many more years with you both.
H.L. Carona Win,         Royal Matron
H.L. Marie Cameron,   Secretary
And all the members of Royal Victoria Court